Cari amici, vi avevo detto che quest'anno ho la fortuna di frequentare tante nuove amiche.
Una di queste è Lynda Higgs, conosciuta perchè interessata a comprare la famosa macchina di Drusilla. Poi complice il suo amore per la Puglia dove vi trascorre ogni anno le vancanze,  è scattata prima la chiacchiera facile, poi il feeling.
Ci siamo viste queste estate a Ceglie la sera della nostra presentazione lì.
Lynda è una vera expat. Ha girato tanto. E' una fotografa molto brava, su facebook trovate la sua pagina. Mettete mi piace. Oggi ci ha fatto un regalo. Un post sulla sua visita alla Grande Mosque di Kuwait. Gustatevi il suo racconto e  le sue immagini. Abbiamo deciso di non tradurvelo. Non ha senso. Si perde la sua bellezza e la sua fluidità. Grazie donna speciale.
THE CALL TO PRAYER
Just over 6 months ago my family and I were living in small town Germany where we had a view of forests and fields. Four or five times a week we would hear the melodic peal of church bells drifting over the green countryside, calling the observant to Mass. Today we live in a bustling city, surrounded by hot desert sands and the azure waters of the Arabian Gulf. Instead of church bells we hear the haunting echo of the call to prayer resonating from the many minarets that dot the city skyline. One of the central tenets of Islam is daily prayer; five times a day, every day, the chant of the muezzin echoes across across the city, in every neighbourhood and shopping mall, even on the radio station, reminding faithful Muslims to hurry to their closest mosque or prayer room. Noticeable at first, especially when the latest Taylor Swift song is interrupted by the chant of the adhan (call to prayer), it has quickly become a feature of our daily lives and a reminder that we are indeed living in the Middle East.

Mosques are found in every neighbourhood here, just as churches and chapels are a feature of many a Catholic country. Some are humble, others grand. At certain times of day, as you drive through the city's streets, you will notice men washing their face and hands at the water machines provided outside every mosque, as well as rows of dusty shoes lined up on the porch, an indicator that it's nearly time for prayer. Some of these ablution points are functional, metallic boxes, others are ornately decorated or even built in the shape of one of the many local water towers.
Naturally, after a few months of living in a Muslim country I became curious as to what the inside of a mosque looks like. You might get the occasional glimpse through a left-ajar door of a smaller, humbler place of worship, but apart from a shadowy outline of pillars and carpets, there's not much to see if you can't step inside. So, curiosity having overcome me, my family and I recently joined a guided tour of the most important mosque in Kuwait, The Grand Mosque.

Arriving at the mosque's visitor reception, a marquee just inside the front gate of the mosque, my daughter and I were immediately instructed to cover our heads. Luckily I was aware of this requirement and had not only dressed us in long, flowing clothes, but also brought suitable scarves with us. Women who weren't wearing appropriately dressed and/or had uncovered heads were guided into a room next door where they were draped in cloaks and headscarves, amidst a little discomfited giggling. It is a strange and somewhat disconcerting experience for a Western woman to be covered up in this manner. Not only did we suddenly all look very similar, but there is a feeling of disappearing into the background and I found that wearing a headscarf muffled sound, which left me feeling a bit shut off from what was going on around me. No doubt women who have grown up wearing cloaks (abaya) and headscarves (hijab) feel it is we who are dressed oddly, but I found it a slightly disorienting experience.
Our guide, a charming Kuwaiti gentleman, whose energy and humour belied his 88 years, explained to us that the Grand Mosque of Kuwait is the 7th largest mosque in Islam and its construction was funded wholly by the then Emir, His Highness Sheikh Jaber Al-Ahmad Al-Sabah. Located on Abullah Al Ahmad Street, in the Sharq area of Kuwait near the towering glass edifices of its finance district, the Grand Mosque was built by some of the best craftsmen the Emir could hire. Work commenced in 1979 and finished 7 years later, resulting in an imposing structure that is a blend of late 20th Century modern and traditional Arabic architectural styles, completed with an elegant minaret that echoes the Andalusian style.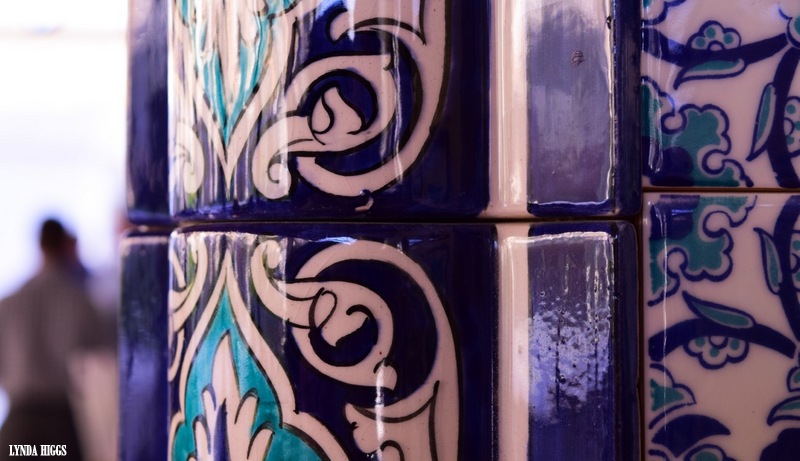 The mosque is indeed grand in every sense, covering as it does 20,000 square metres, not including the external structures and courtyards (which cover an additional 25,000 square metres). Our guide warmly welcomed us in the reception area and, after a brief introduction to the history and customs of Islam, took us through to a cool, marble floored foyer where we removed our shoes. Not only is this a practical measure, preventing dirt from the streets being trod into the carpets on which worshippers kneel down to pray, but it also ensures that everyone is on an equal footing, be they prince or pauper (which may be where the expression, "to be on an equal footing", originates from).
On entering the main prayer hall your eyes are drawn upwards by the four enormous pillars that support the central dome. The vast prayer hall is able to accommodate 10,000 men and is carpeted with a beautiful deep blue carpet, decorated with patterns that indicate individual areas for worshippers to kneel on, all pointing towards Mecca (although our guide assured us that when the hall is full, as it no doubt is during Friday prayers and the holy month of Ramadan, these demarcations don't count for much). Trying to imagine this softly lit and peaceful space jam-packed with worshippers did take some doing and the only hint of the mosque's actual purpose, as a place of prayer and study, is the many alcoves and cubicles around the edge of the prayer hall, where younger students of the Quran can recite what they have learned.

The prayer hall is subtly decorated with beautiful, abstract mosaics and carved Arabic script all inlaid into the creamy, marble walls. Shafts of sunlight filter through stained glass windows, set high up near the roof. As the light moves slowly across the carpeted floor it also illuminates alcoves set at intervals into the marble walls and decorated with traditional Islamic tiles. All in all it makes for a calm and peaceful space and part of me wonders what it's like when it echoes with the chant of thousands of prayers.
Without a doubt, the most eye-catching and striking feature of the mosque is its central dome, a massive 26 metres in diameter it draws the eye upward towards the heavens. The dome is decorated in a more traditional style than the walls of the prayer hall. Painted a deep cerulean blue and edged with gold fretwork, its circumference adorned with the Asma al-hosna, the 99 names of God, softly illuminated by sunlight that filters through narrow, blue stained-glass windows. If you have visited the famous Blue Mosque of Istanbul or admired traditional Islamic tiles and ceramics you might have noticed the prevalence of the colour blue, which is considered the colour of protection in Islam, hence it being used on the ceiling of the Grand Mosque.
And in case you were wondering where the women pray, there is a smaller prayer room adjacent to the main hall capable of accommodating up to 1000 female worshippers.
It was a privilege to have this glimpse of the impressive Grand Mosque and I would encourage anyone finding themselves in Kuwait to make an effort to include it in their "to do whilst living here" list. To book a guided tour you can contact the Mosque directly (+965-241-8447) assuming this is still correct) for their weekday tours, or you can visit the AWARE Center's website www.aware.com.kw to find out the date of their next Saturday morning tour. The AWARE Center is an organisation whose purpose is to encourage Western-Arab cultural understanding and the benefit of their tour timings is that your spouse and children can share in the experience.
Lynda Higgs.